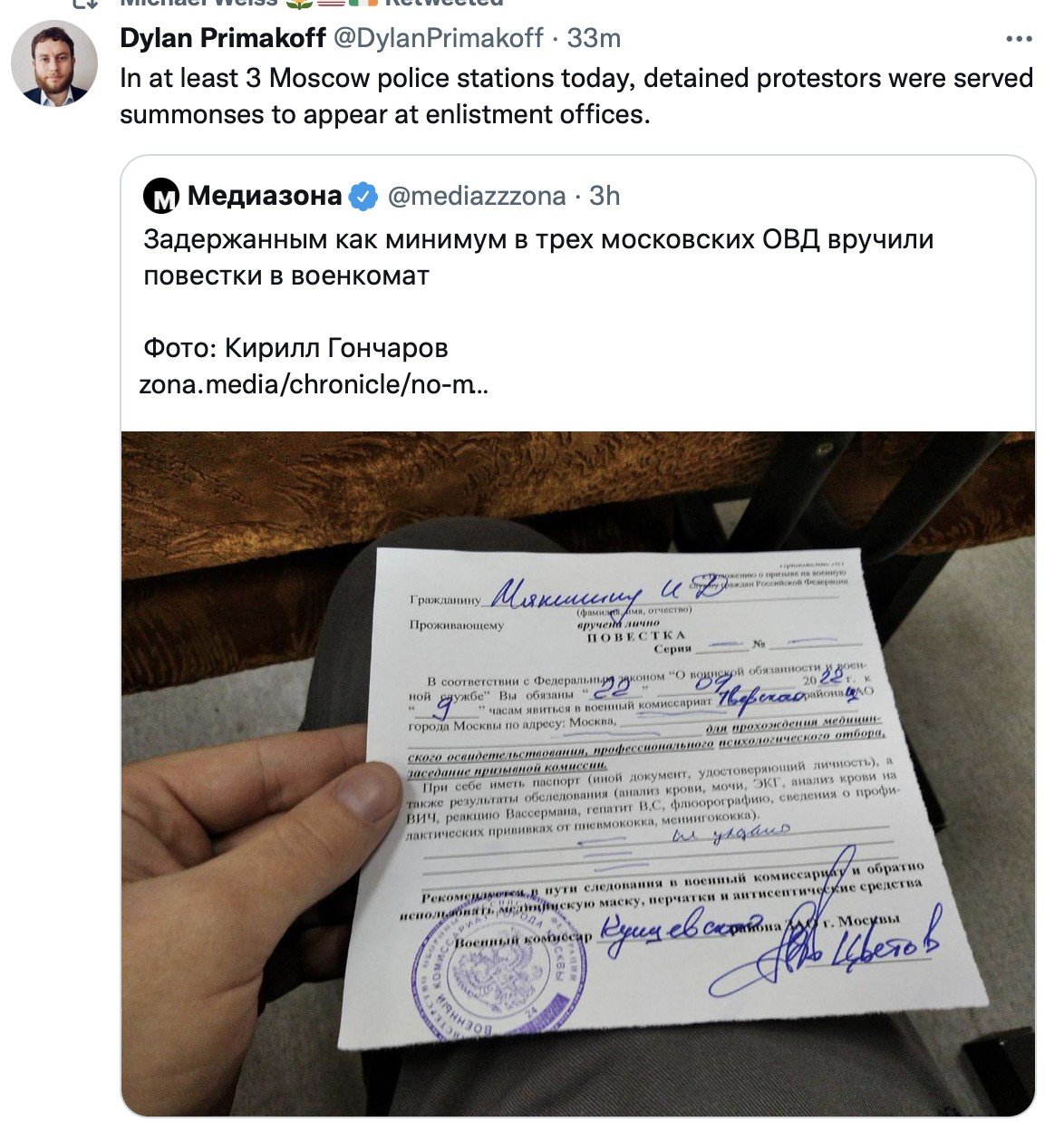 Russia this week began what western officials call "sham" referendums in occupied regions of Ukraine—Luhansk, Donetsk, Zaporizhzhia, and Kherson—to give Moscow pretext to illegally annex the territory and threaten that any attempt to recover the stolen lands will be viewed by the Kremlin as an invasion. In a speech this week Russian president Putin issued a veiled threat that included the use of nuclear force and announced a mobilization of 300,000 troops for his war effort.
In response to Russia's increased hostilities, EU foreign policy chief Josep Borrell has promised that the bloc will impose new sanctions against Russia—both individual and sectoral. The G7 is also planning new sanctions. Hungary may be a fly in the ointment, claiming that the EU should not consider any more new sanctions against Russia because further restrictions would deepen the energy crisis in Europe.
Poland and the Baltic states are pushing for increased sanctions on Russia, including ejecting more Russian banks from SWIFT and banning diamond imports. A potential eighth round of EU sanctions is expected to contain legislation to implement the cap on the price of Russian crude, more listings of sanctioned individuals, and measures targeting Russia's IT, cybersecurity, and software industries.
Russian oligarch Roman Abramovich, music conductor Valery Gergiev, propagandists Margarita Simonyan and Vladimir Solovyov, and central bank director Elvira Nabiullina could all be included on the SDN list if the President signs a new bill—the CORRUPT Act: Corruption, Overthrowing Rule of Law, and Ruining Ukraine: Putin's Trifecta Act—that targets 200 high-level Kremlin-friendly figures in media, culture, business, and government. The inclusion of Abramovich is particularly notable, since he was initially spared as a potential peace broker between Russia and Ukraine.
FiveBy assesses that US sanctions could also focus on human rights violations as Russian security forces clamp down on protests in the aftermath of Putin's announcement that have already resulted in the detention of at least 1,300 demonstrators. Some of the protesters have been issued orders to appear at enlistment offices. Secondary sanctions could be imposed on banks and financial institutions that transact with sanctioned Russian banks, which has prompted two Turkish banks —Isbank and Denizbank—this week to stop accepting Russian Mir payments after OFAC imposed sanctions last week on the chairman of the entity that operates the Mir National Payment System. In addition, cyber designations could target Kremlin-linked hackers with whom Russian intelligence is coordinating to launch attacks against adversaries.
The Russia-related sanctions landscape is constantly changing, requiring monitoring and regular assessments by expert analysts about the risks associated with transacting with Russian entities. FiveBy can help inform your risk appetite by providing risk assessments produced by certified experts and tailored to your requirements.
Need a risk assessment? Click below for a personalized consultation and demo.
---
Compliance and Due Diligence
The United States has sanctioned the Iranian Morality Police for their abuse of women in the country after the death of Mahsa Amini. Treasury also designated the head of the Morality Police and several other senior security services officials. With the upcoming first anniversary of the White House Summit for Democracy in December and the continued collapse of the Iran nuclear talks, we expect more sanctions imposed on Iran in the short term.
Several EU members, including Poland and the Baltics, are pushing back against a change that they fear will water down EU sanctions on Russian coal. The European Commission has loosened sanctions to allow EU companies to help transport, finance, or insure the sale of Russian coal, wood, and some cement products to third countries "to combat food and energy insecurity around the world."
In an effort to comply with international sanctions against Russia and avoid secondary sanctions, Kazakhstan has closed a loophole that allowed Russian and Belarusian truckers to bring EU cargo across Russia to Kazakhstan without proper paperwork. Truckers must present two documents: one from the cargo's place of origin, and one from the place where it has been reloaded onto Russian or Belarusian trucks for transport out of the EU to Kazakhstan. Those documents will not be easy to obtain since both Russian and Belarussian trucks are banned from the EU.
UN-appointed human rights expert, Tom Andrews, is calling for governments and companies to coordinate efforts to cut off the junta in Myanmar from its sources of revenue and weapons. Andrews says that since Russia and China both continue to supply weapons to Myanmar, and both have UN Security Council veto powers, a resolution to impose an arms embargo and targeted economic sanctions is unlikely to pass, leaving the onus of addressing the issue on individual countries.
The Federal Communications Commission's (FCC) Public Safety and Homeland Security Bureau has banned two China-associated telecommunication companies—Pacific Network (PacNet)/ComNet and China Unicom Operations—from providing services in the United States. The FCC included the companies on its "covered list" because national security reviews from nearly two years ago flagged PacNet/ComNet and China Unicom as being vulnerable to exploitation, influence, and control by the Chinese government.
A bipartisan effort in Congress is proposing that President Biden use secondary sanctions on international banks to strengthen the price cap on Russian oil planned by the G7. Senators Chris Van Hollen and Pat Toomey want to impose sanctions targeting financial institutions involved in trade finance, insurance, reinsurance, and brokerage of Russian oil and petroleum products sold at prices that exceed the cap to discourage Russian evasion of the cap through transactions with non-G7 countries.
The Commerce department this week added three Boeing 747 aircraft operated by sanctioned Iranian airlines providing cargo services to Russia to a list of planes that have violated US export controls. The Bureau of Industry (BIS) and Security has identified aircraft operated by Mahan Air, Qeshm Fars Air, and Iran Air that transport goods, including electronic items, to Russia.
Senators Marco Rubio, Mark Warner, Chuck Schumer, and John Cornyn this week sent a letter to Director of National Intelligence, Avril Haines, calling for a review of Yangtze Memory Technologies Co (YMTC) and the risks it presents to US national security. The senators question Apple's decision to use components from YMTC in its next iPhone and say that Apple's decision would introduce significant privacy and security vulnerabilities to the global digital supply chain because of YMTC's ties to the Chinese Communist Party. The Senators are also urging the Biden administration to include YMTC on the BIS Entity List for allegedly supplying components to Huawei and violating export controls.
Treasury is seeking public comment on possible illicit finance and national security risks posed by the use of digital assets and suggestions to mitigate these risks. The Department says that crypto has been used in sophisticated cyber-criminal activity, including ransomware, and its growing use has increased the risk of crimes such as money laundering, terrorist financing, fraud, theft, and corruption.
Under new legislation introduced in the UK, Companies House will have new authorities to challenge fraudulent attempts to register companies by kleptocrats and their agents, helping the company registrar to crack down on illicit finance and entities used to move dirty money. The bill also gives new powers to law enforcement to "seize, freeze and recover" crypto assets, to prevent cybercrime and money laundering.
Fraud and Abuse
Multiple branches of the US military have bought access to a powerful internet monitoring tool that gives them insight into as much as 90 percent of the world's internet traffic, and which, in some cases, provides access to people's email data, browsing history, and other sensitive information. The tool, called Augury, is developed by cybersecurity firm Team Cymru and bundles a massive amount of data, making it available to government and corporate customers as a paid service.
Authorities in Italy and Spain have dismantled a drug trafficking and money laundering network believed to be linked to the 'Ndrangheta organized crime group. Police raided 40 locations across Ibiza, Barcelona, Malaga and Tenerife and seized cash, drugs, firearms and ammunition, and 23 luxury vehicles. The head of this group is believed to be connected to the boss of one of the most powerful 'Ndrangheta families.
A jury this week returned a guilty verdict against Mustapha Raji for his participation in a $1.7 million business email compromise and money-laundering scheme that targeted a Manhattan hedge fund. Raji was convicted on four counts of conspiracy to commit wire fraud, wire fraud, receipt of stolen property, and conspiracy to commit money laundering. The hedge fund compromise resulted in the fraudulent diversion of a $1.7 million wire transfer from the hedge fund to a corporate bank account used to facilitate the scheme. Raji was a registered officer of the company that received the stolen funds, fabricated documents to cover up the fraudulent transfer, and directed a co-conspirator to launder the stolen funds to other co-conspirators domestically and overseas.
Latvian police have dismantled a money-laundering ring which used money mules to clean dirty funds. A criminal coordinator in Germany organized the operation, which recruited young people with Latvian bank accounts to receive payments from German citizens. These payments were then immediately withdrawn.
Germany has raided 24 properties linked to sanctioned Russian oligarch Alisher Usmanov. Prosecutors in Frankfurt and Munich say that the properties were searched in connection with suspected sanctions violations and money laundering and that the suspect allegedly conducted several transactions between 2017 and 2022 using a complex network of offshore companies to hide the origin of the payments, which amounted to millions of euros.
The DEA has been tracking hawala transfers used by the US-designated Kinahan cartel's Johnny Morrissey to launder hundreds of millions in drug money. Under Project Cassandra, the DEA began investigating hawalas in Europe in 2015 after it established that Hizballah was using the informal transfer system to facilitate "the movement of large quantities of cocaine into Europe and the United States."
A top aide to Democratic Republic of Congo President Felix Tshisekedi has resigned after a series of secretly-taped videos were released that appeared to show him negotiating a corrupt mining deal. Vidiye Tshimanga allegedly told people claiming to be mining executives that he could protect their investments in return for a stake in their unnamed project.
A former Chinese top security official faces life in prison after a court suspended his death sentence for bribery and other crimes. Sun Lijun's death sentence will be commuted to life imprisonment after two years.
Balochistan residents are accusing Pakistan authorities of corruption in the distribution of flood relief, alleging that government officials distributed aid to close associates and influential people instead of the flood-affected families. They further contend that during aid distribution, authorities refused to provide rations and told them to ask assistance from those for whom they have voted.
A former director of Mississippi's welfare agency this week pleaded guilty to new federal charges in a conspiracy to misappropriate tens of millions of dollars that were intended to help needy families. John Davis pleaded guilty to five counts of conspiracy and 13 counts of fraud against the government in one of the biggest public corruption cases in the history of the state. The case also involved former NFL quarterback Brett Favre, who has not been charged in the case, but did receive $1.1 million in state welfare money for no-show speaking gigs, which he has since repaid.
FiveBy provides to our clients a weekly news roundup of relevant insights to help avoid issues associated with both regulatory and reputational risk. We hope you find this useful, if you would like to see other things included, let us know at insightsfeedback@fiveby.com